Kyriakos Kontaxian, Center Manager, Mediterranean Cosmos, is President of ACT Alumni Association and an Anatolia College High School alumnus. With his inspiring and generous personality Kyriakos leads ACT Association with a new and dynamic vision engaging its members to support the education and social mission of ACT.
You are an ACT Graduate. In which way was ACT instrumental in your successful professional development?   Did your experience at ACT prepare you for the demanding business reality?
I am an Anatolia lover! I graduated from Anatolia High School and later on from ACT, back then known as SBALA and ACHS.
There were, and still are, many colleges. There were, and still are, many places that you can take courses and end up with your desired degree. But, there are not many places that promote students' personal development. This is one of the most important areas that ACT set the basis for, preparing me for the next day and for the demanding business reality. Soft skills, self-knowledge, values and ethical standards were founded during college years at ACT. All the above, coupled with the excellent environment, facilities and high faculty standards, made ACT instrumental in my professional development and makes ACT the best choice for your college studies in Greece.
What do you remember fondly from your student years? 
Besides the excellent curriculum and our profound professors, what I remember fondly is the feeling of belonging to a community. So many activities were taking place, clubs and events, excellent on-campus student life and last – but definitely not least – the chance we had to meet and socialize with exchange students from different parts of the world, resulting in a lifetime experience we enjoyed daily on our wonderful campus.
What would you advise an ACT student who is in search of studies or a profession? What should be the criteria to make this choice?
Although sometimes we don't know what exactly we will end up doing, we must choose studies or professions that we have a special feeling for. Love what you do and devote yourself to it!
Skills and attitudes are extremely important in everything we do. There will be so many graduates, from a wide number of colleges and universities. One must find a way and stand out from the crowd. One must realize in which way he/she is different from the others and how he/she will make the difference. Make sure that this one will be you!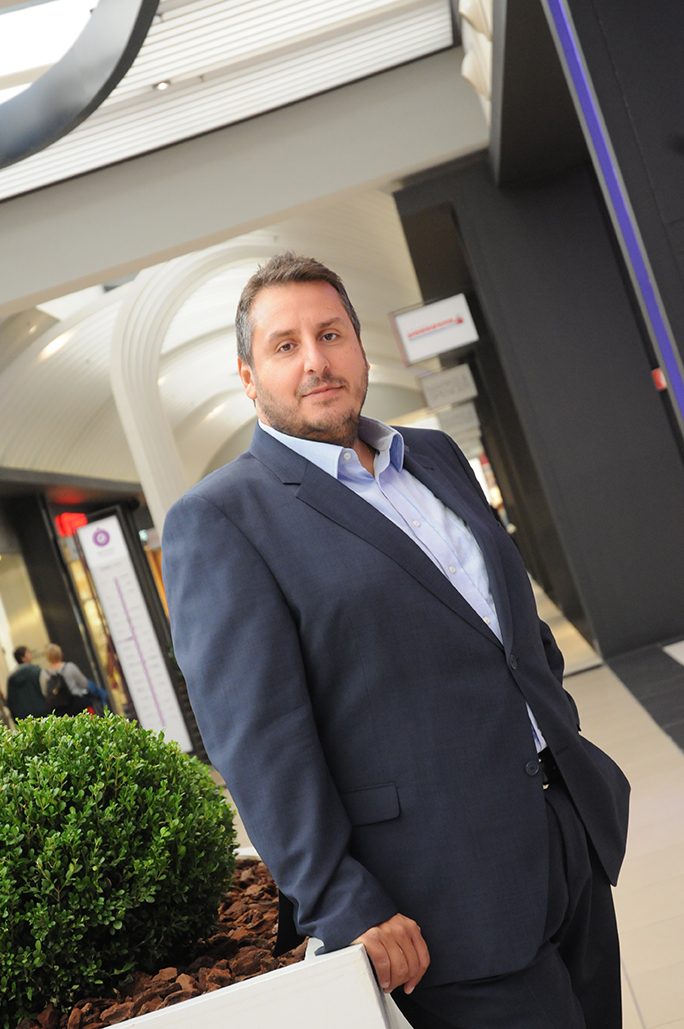 What are the challenges of your position at Mediterranean Cosmos? 
Having 200 stores, traffic that reaches approximately 8 million visitors per year, shop owners, employees, suppliers, events going on and so many other things and tries to keep everyone happy! This is actually the biggest challenge! We want everyone that honors us by choosing to visit Mediterranean Cosmos premises to simply gain an unforgettable experience! 
As the President of the ACT Alumni Association, what is your vision for this alumni group? Which are your priorities?
The main objectives of the ACT Alumni Association are to promote close relations between the American College of Thessaloniki and all ACT graduates, make known the interests of alumni to ACT, create a strong and lasting reference point for all graduates and postgraduates, while also build up a social and professional network.
It is a known fact that for any non-profit association it is vital to find ways to raise funds in order to carry out and support its various activities and projects. Many of you by experience would know this is no easy task, especially nowadays. The ACT Alumni Association is continuously faced with this rather challenging task.
Another issue that we are faced with is maintaining direct communication with our alumni body. Such being the case, in collaboration with the ACT's respective departments, we are trying to build an up-to-date alumni database. I trust that the launch of our brand new website during 2018, will contribute to this ongoing procedure in order we can then jointly work with Anatolia/ACT for a strong Alumni Campaign that will have a wider impact.
At the same time, I would challenge all of you to think of the possible ways you can give back to our College, to whatever extent you are feeling comfortable with. And I do not mean just monetarily, though that is, of course, always welcome. There are many ways one can give back, from career and academic mentoring to volunteering time at on and off campus events, to simply attending academic and social events. Soon you will find out that giving back has another important benefit: it feels good!
What message would you like to send to the ACT alumni?
Every graduate from ACT is blessed. It is not only the courses we have taken during college years, but the whole experience that is worth living by having attended ACT. Nonetheless, we all need to keep in mind that your relationship with ACT does not end at graduation. We encourage you to stay ACTively Connected, keep your contact data updated constantly in order to keep on receiving the latest news about the place you used to feel like "home" and ultimately decide whether you wish to be a part of it at any moment of your life. For some this connection to ACT may come in the form of simply attending events organized by the College and the Alumni Association or volunteering for mentoring and addressing to current students. For others, it might be the need to reconnect, get in touch again with former classmates to remember the past or create a special network to the demanding entrepreneurial world, a network of "owns". After all, the ACT Alumni Association is each and every one of You, ACT is you. We are here for each other, simply make the next step and get in touch with us. It is the start to creating something we will all be proud of, together.