The participation and the great interest (more than 130 participants) featured the opening of the MITEF Greece Startup Competition 2017 in Thessaloniki held at the Bissell Library of the American College of Thessaloniki, on December 5, 2016.  The event was co-organized by MITEF Greece, Anatolia School of Business and Venture Garden.  Dr.Panos Vlahos, President of Anatolia College, made the opening speech emphasizing on the special support that Anatolia College offers on the current forms of Entrepreneurship based on its innovative programs.  During this special event, the participants had the unique opportunity to listen to Dr. Nikolaos Mavridis, Founder and Director of Interactive Robots and Media Lab, PhD, Massachusetts Institute of Technology, who presented Interactive Robots and Media Lab and shared interesting insights on the latest developments in robotics and its usefulness in improving the future quality of human life in the fields of medicine, industry, entertainment, education, etc.  Following, Mr. Vassilis Papakonstantinou, Chaiman of MITEF Greece, informed the audience about the competition and Dr. Dimitris Kontarinis, Director of the Entrepreneurship Hub, Anatolia School of Business at ACT presented the four teams of Thessaloniki, EventReception.com, Elektronio Handcrafted Vehicles, ErgoSensePro and BAeTI which managed to be among the 25 semifinalist teams of the MITEF Greece Startup Competition 2016.  It should be noted that two of them, Elektronio Handcrafted Vehicles and BAeTI, are VentureGarden Thessaloniki graduates.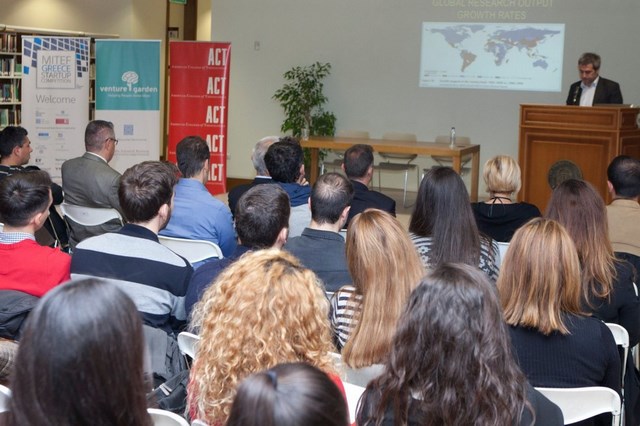 Applications for the 3rd MITEF Greece Startup Competition are open to all eligible teams/startups till midnight December 20th, 2016. For more information regarding the MITEF Greece Startup Competition application, please advice the FAQ's page and the Eligibility page.
For detailed information on the specific legal rules and terms of participation, please follow Rules & Terms of Participation page.