This summer ACT is home to 10 different programs that interest students of all ages.  The summer semester at ACT is always one of the most exciting, read on to find out more about our summer studies, camps, programs and activities.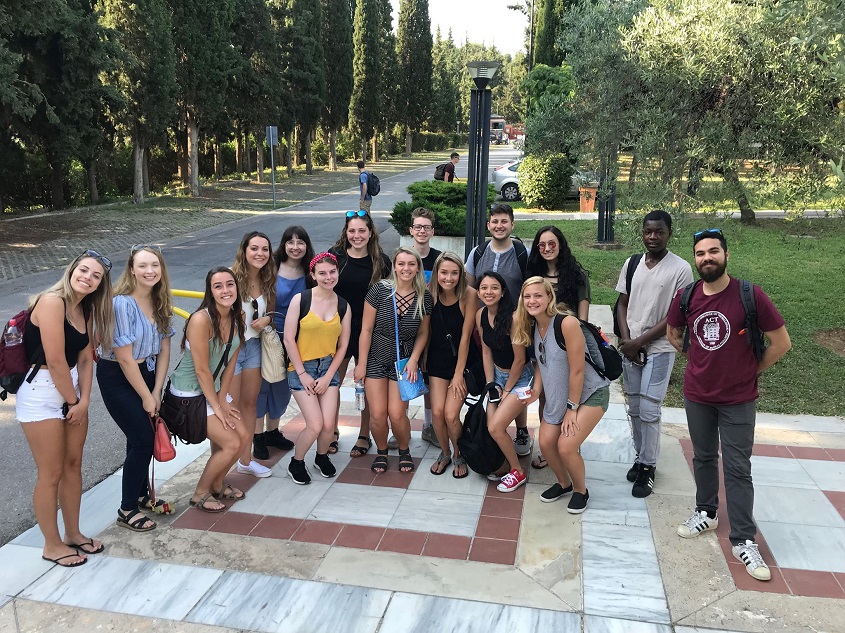 ACT welcomes students from over 20 institutions in the United States and Canada to take part in ACT's 5 week summer session that started on June 10th.
Students take advantage of the academic courses offered in Business, Social Sciences, and Technology, but one of the highlights of the summer program is always the sea sailing course which earns you 3 credits and a skippers license!
The American College of Thessaloniki includes a Thessaloniki city tour, and excursions to the Royal Tombs of Vergina, the Oracle of Delphi and to the city of Athens as part of the study abroad package.
ACT will also host two special programs:
→ Rutgers University
This summer will be Rutgers' 5th at ACT. Run through the Modern Greek Studies Program, RU Greek Professor Katerina Kourti-Gavalas will be accompanying her students as they engage with Greece in transition. The RU students will also be participating in our service-learning programs, volunteering their time with the local community!
This year's program will be especially exciting as our IPO Fellow Christina Daniskas is a recent Rutgers graduate and an alumni of the study abroad program as well!
→ University of Toronto
University of Toronto students will be spending their summer semester at ACT for a third year in a row to follow ACT Professor Maria Kyriakidou's Politics 300 course: "Modern Greece, the Balkans, and the European Union".
The Canadian students will also enjoy a full travel schedule, going to Vergina, Philippi, Kavala, Meteora, Athens, Delphi and Nafplio!
The 4th ACT Summer Music Program, in collaboration with Georgia State University, will offer master classes, lectures and discussion; and include concerts and opera production.  Dr. Christos Gallileas is the Executive Director and Dr. Grigoris Baglavas the Program Coordinator.
From June 25th to July 5th, ACT will host three camps for high school students.
Professor Anestis Anastasiou will be leading the 2nd "Young Entrepreneurs in Action": a program based on material and know how used by the Jacobson Institute of Youth Entrepreneurship, of ACT's partner institution University of Iowa.
Dr. Maria Patsarika will host a Social Sciences project, "Youth Culture in Thessaloniki", aimed at studying how friendly the city is towards youth and teens.  The program will include lectures at ACT as well as hands-on research in the city.
Dr. Mary Kalamaki's program "Introduction to Biotechnology" will give students practical training on basic lab experiments used in microbiology, biochemistry and molecular biology.  This is a program created for students thinking of following medical and veterinary studies, pharmacology, or even food science.
The Business Plan competition, co-organized by ACT's Entrepreneurial Hub and the Mary and John Pappajohn Foundation, helps young people get a jumpstart on their business ideas.
Proposals are currently being reviewed, the most innovative ones will be presented and the best five will receive 4,000€ each.  In 2017, Nick McVeigh, a study abroad student from Pace University was one of the winners!
Greece Lacrosse
ACT will be hosting the Greek National Lacrosse team this July before they head to Netanya, Israel for the FIL (Federation of International Lacrosse) Men's World Championship Games! The men's team will be hosting a free all-ages clinic, open practice sessions, and a squad scrimmage. It is a very historical year for Greece Lacrosse and it's all starting here in Thessaloniki! — Dates: July 8-11
Stay tuned to www.act.edu for more information on this!